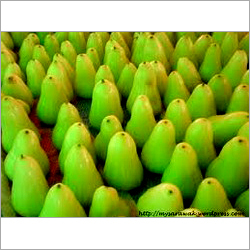 Green Water Apple
Product Code : GWA-01
Product Description
We manufacture, trade and supply a wide array of Green Water Apple to our highly esteemed clients. It is highly perishable, non- climacteric and also bruises easily. Its trees bloom and fruit sporadically almost all year, though somewhat less in summer than at other times. Green Water Apple leaves are extensively used in perfume industry due to its strong fragrance. It has gained us huge appreciation from our clients among our competitors. We offer it to our clients at highly reasonable prices in the market.
Green Water apple good for brain and Liver:
The fruit is regarded as a tonic for the brain and liver. An infusion of the fruit acts as a diuretic. A sweetened preparation of the flowers is believed to reduce fever.
The leaf decoction is applied to sore eyes, also serves as a diuretic and expectorant and treatment for rheumatism.
The juice of macerated leaves is taken as a febrifuge. Powdered leaves have been rubbed on the bodies of smallpox patients for the cooling effect.

Green Water Apple arrests Diabetes, Asthma and Dysentery:
The seeds are employed against diarrhea, dysentery and catarrh.
It has been claimed that an infusion of roasted, powdered seeds is beneficial to diabetics. The seeds have an anesthetic property.

The decoction is administered to relieve asthma, bronchitis and hoarseness.
Contact Us
No. 400/A, Navli Road, At & Post Zankharia, PO. Navli, Taluka, Anand, Gujarat, 388356, India