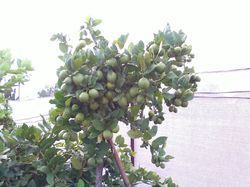 Seedless Lemons
Product Code : 0001
Product Description
The
Seedless Thai Lemons
are much sought after by pickle manufacturing industries.
Slices of lemon are served as a garnish on fish or meat or with iced or hot tea, to be squeezed for the flavorful juice. In Colombia, lemon soup is made by adding slices of lemon to dry bread roll that has been sauted in shortening until soft and then sieved.
Features:
Lemon juice, fresh, canned, concentrated and frozen, or dehydrated and powdered, is primarily used for lemonade, in carbonated beverages, or other drinks. It is also used for making pies and tarts, as a flavoring for cakes, cookies, cake icings, puddings, sherbet, confectionery, preserves and pharmaceutical products. A few drops of lemon juice, added to cream before whipping, gives stability to the whipped cream.
Lemon peel can be candied at home and is preserved in brine and supplied to manufacturers of confectionery and baked goods. It is the source of lemon oil, pectin and citric acid. Lemon oil, often with terpenes and sesquiterpenes removed, is added to frozen or otherwise processed lemon juice to enrich the flavor. It is much employed as a flavoring for hard candies.
Other Uses:
Lemon juice is valued in the home as a stain remover, and a slice of lemon dipped in salt can be used to clean copper-bottomed cooking pots. Lemon juice has been used for bleaching freckles and is incorporated into some facial cleansing creams.
Lemonade, when applied to potted plants, has been found to keep their flowers fresh longer than normal. But it cannot be used on chrysanthemums without turning their leaves brown.
Medicinal Uses:
Lemon juice is widely known as a diuretic, antiscorbutic, astringent, and febrifuge. In Italy, the sweetened juice is given to relieve gingivitis, stomatitis, and inflammation of the tongue. Lemon juice in hot water has been widely advocated as a daily laxative and preventive of the common cold, but daily doses have been found to erode the enamel of the teeth. Prolonged use will reduce the teeth to the level of the gums. Lemon juice and honey, or lemon juice with salt or ginger, is taken when needed as a cold remedy.
At a point of time, when the consumption of dairy products is reducing day by day, promotion of lemonade is a healthy alternative. Lemons are known for its rich Vitamin C content that helps prevent several diseases, such as scurvy.
It also contains citric acid, which is essential requisite for all human beings. It keeps our digestion good and act as cleansers when toxicity pile up in the liver, kidneys, bowels, lungs, or skin. It is one of nature's five best sources of ascorbic acid.
Contact Us
No. 400/A, Navli Road, At & Post Zankharia, PO. Navli, Taluka, Anand, Gujarat, 388356, India