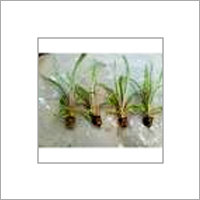 Tissue Culture Sugarcane Plants
Product Code : TCS-01
Price And Quantity
Unit of Measure

:

,
Product Description
Sugarcane is the main crop that contributes approximately 56% of the total sugar production in the world. We are an eminent trader, supplier and manufacturer of Tissue Culture Sugarcane Plants to our highly respected clients. It is true to type and free from virus, Pest, Nematode and Diseases at the time of supply. It is known for its high survival rate and has high speed multiplication ratio, i.e. 1:25 against 1:10 in conventional method. Clients can avail Tissue Culture Sugarcane Plants from us at highly competitive prices in the market.
Mode of Application / Agronomy
Soil : Sugarcane grows best on medium heavy soils, but can also be raised on l ighter soils and heavy clays, provided there is adequate irrigation available in the former type of soils and drainage is good in the latter type of soils.

Climate : Temperatures above 50 C arrest its growth; hose below 20 C slow it down markebly and severe frost proves fatal.

Seed Material : Healthy seed material, free from pests and diseases, and having high viability is essential for establishing the crop in the first instance. 4000-4500 plants per acre required for TC raised sugarcane.

Season of planting : February and March

Planting : For tissue cultured plants, give light irrigation in furrows and for planting put whole plant with net pot in pit. Cover pit with soil. Flat system: Mainly followed in the subtropical states.

Spacing : 1m x 1m for TC raised primary plants.

Harvesting: TC raised sugarcane harvested after 8 months of planting and can be used for commercial seed.
Yield* : Generally farmers are getting fifteen time sets of seed for commercial cultivation from TC plants planted
Contact Us
No. 400/A, Navli Road, At & Post Zankharia, PO. Navli, Taluka, Anand, Gujarat, 388356, India